Mary Tudor and Charles Brandon had their second wedding on this day in 1515. Their first wedding had taken place some months before in secret – they had married for love, something unusual for a royal princess at the time. Mary's choice to marry for her own happiness caused a scandal and their path to marriage was not without its difficulties.
Mary's first marriage had been to the much older King Louis of France. It lasted less than three months before he died, leaving Mary the Dowager Queen of France at eighteen years old. Her brother, Henry VIII, sent his great friend Charles Brandon to France to arrange for Mary's return to England, with a promise from Charles that he would behave appropriately.
Mary was raised as a princess who knew that her husband would be chosen for her for political reasons. But shortly before leaving England to marry Louis, she allegedly extracted a promise from Henry that if she outlived her husband she could choose her second one herself. We don't know for certain if Mary was already thinking of Charles Brandon, but there was an attraction between the two. Charles had been Henry's friend and companion since they were boys, and Mary would often have been in his company.
In the immediate aftermath of Louis' death, Mary was in a vulnerable position. She was a valuable bargaining tool not only to Henry, but to the new French king Francis. With the arrival of Charles, Mary decided to make her own choice and in early 1515 they married in secret.
This was a great risk for Charles to take, no matter how he felt about Mary. He had married a princess without the consent of the king. Knowing that her brother would be furious, Mary wrote to Henry to confess and beg for his forgiveness. She also reminded him of the promise he had made to allow her to choose her second husband. Her choice was, most assuredly, Charles.
Henry was very angry, but did eventually forgive them both – although Mary and Charles were ordered to pay huge fines in exchange for it. They returned to England, and their public wedding at Greenwich on 13th May was attended by Henry and his queen, Katherine of Aragon – showing everyone that he had given the couple his blessing.
Mary and Charles had four children – two boys and two girls. The eldest girl was Frances Brandon, who would later marry the Marquess of Dorset. Their three daughters were Jane, Katherine, and Mary – the Grey sisters. Their story will be told in my upcoming book, The Last Tudor, out on 8th August.
In my latest novel, Three Sisters, Three Queens, I imagined how Mary would tell her sister Margaret, Queen of Scotland, about her marriage to Charles in a letter. Mary, so happy and in love, would have expected Margaret to be pleased. After all, Margaret had also chosen her second husband.
'So we are married – oh! me and Charles Brandon – married and nobody can do anything about it, and I could not be happier, I have loved him, I think, all my life. Of course everyone is completely furious with us both; but what were we to do? I could not leave my home again, and be married to a stranger. Harry promised me that my second marriage should be my choice, so why should I not hold him to it? Katherine chose in her second marriage, you did. Why not me too?'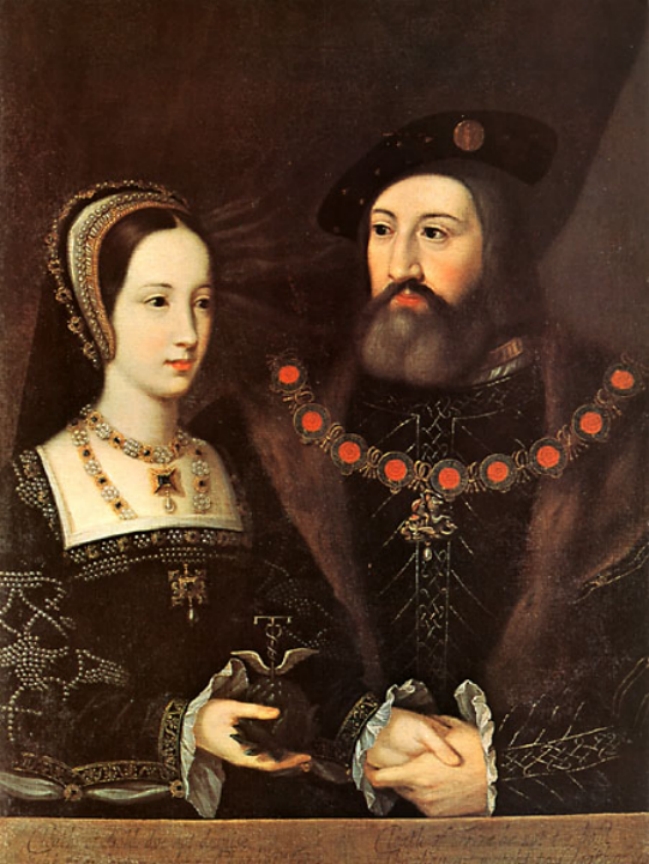 Image: Mary Tudor and Charles Brandon, attributed to Jan Gossaert, 16th century, Collection of the Duke of Bedford, Woburn Abbey, Bedfordshire, via Wikimedia Commons