On Valentine's Day in 1613, a glorious royal wedding took place in London. Elizabeth Stuart – the eldest daughter of James I – was marrying Frederick V, Elector Palatinate of the Rhine.
Elizabeth was born in Scotland in 1596 and named for her godmother Elizabeth I. When the English queen died in 1603, Elizabeth Stuart moved to England with her parents and beloved older brother, Prince Henry. Her younger brother, the future Charles I, was thought too weak to travel, and followed his family south when he was stronger.
Frederick had not been the famously beautiful 16 year old Elizabeth's only suitor, but he had an impressive lineage and was a defender of the Protestant religion. There were some who felt that the match was too lowly for Elizabeth, in particular her mother – Anne of Denmark – who as the daughter of a king, sister of a king and wife of a king was disappointed that her daughter would not also be a queen.
However the marriage was a popular one and provided a much needed celebration for a country in mourning after the recent unexpected death of the heir apparent Prince Henry. The young couple celebrated and feasted in London for two months before leaving for the continent. Their marriage was a good one, eventually blossoming into love. They had thirteen children in total, although not all lived to adulthood.
Six years after their marriage, Frederick was offered the throne of Bohemia. The mostly Protestant nobility had rebelled against their Catholic Hapsburg rulers and despite his reservations, Frederick accepted, with the full support of Elizabeth. She was crowned Queen of Bohemia in November 1619, her mother's hope to see her daughter a queen fulfilled.
But her reign would be a short one. Only a year later, Frederick was defeated at the Battle of the White Mountain – one of the earliest events of the Thirty Years War. He and Elizabeth were forced into exile and became known as the Winter King and Queen.
They fled to the Hague, where Elizabeth worked for the Protestant cause in Europe, and helped her husband who was attempting to reclaim the lands and title stripped from him by the Hapsburg emperor. Frederick's unexpected death in 1632 devastated her, but she continued to fight for her son's claim, remaining an important political figure in Europe. She refused an appeal from her brother Charles I to return to England, fearing it would damage her children's claim to the Palatinate. Her son, Charles Louis, eventually regained the title and land that his father had lost.
Elizabeth returned to England in 1661 after the restoration of the monarchy and the ascension of her nephew as Charles II. She died a year later and was buried next to her older brother Prince Henry.
When it became clear that the last Stuart monarch, Queen Anne, would not produce any heirs, Elizabeth's daughter Sophia became heir presumptive. Sophia's son became King George I of Great Britain and Ireland in 1714, making all British monarchs since then directly descended from Elizabeth Stuart, the Winter Queen.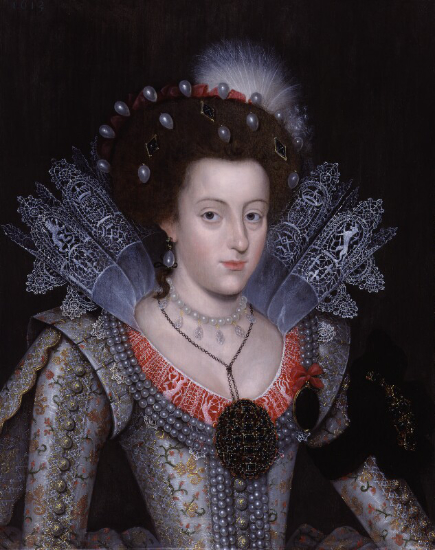 Image: Princess Elizabeth, Queen of Bohemia and Electress Palatine, by Unknown Artist, 1613, NPG 5529. © National Portrait Gallery, London.